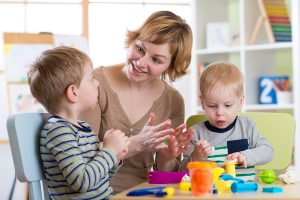 Choosing a childcare provider is one of the most important decisions a parent can make. There are so many factors that go into the choice from location to availability to values matching. However, no factor in this decision is more important than trust. Parents are putting you in charge of their children and they need to trust that you will keep them safe, help them learn, and provide a happy, fun environment where their children thrive. Thus, the ultimate key to building and growing a thriving child care business is to foster trust with all of your parent clients.
Recommendations And Referrals Build Trust
The best way to build trust as a child care provider is through referrals and recommendations. If parents know that someone they trust trusts you with their children, they are much more likely to consider your services for their own. In the child care industry, there is no better method for building your business than getting referrals.
Recommendations & referrals are an essential part of running a business. But how do you get them and how to ask for referrals and how do you automatically reward a customer for a successful referral?
RelyCircle Social Networking App specifically built for small-business owners can help.
RelyCircle harnesses the power of positive word of mouth by rewarding your customers when their referrals on our social network turn into new sales for your business. It's a Win-Win. With these trust-based referrals, you can begin to attract more clients and build your child care business.
Grow your business with RelyCircle.
Using RelyCircle is incredibly easy for both you and your clients. RelyCircle provides free  registration, free listing of referral promotions and also free (always) e-mail and text tools that that can be used to send referral links to your customers. As an alternative to email/text, you also get a group of unique QR code labels to track referrals; that you can affix to each client's invoice. By simply clicking or scanning on their mobile phones; customers land on your business page and view the referral rewards they can earn and are able to post/share recommendation of your business. The referral reward is decided by you and allocated on each promotion that you will add on RelyCircle which puts you in full control; and of-course you will only pay the referral fee after you gain a referral sale. Click here to view a short presentation on how RelyCircle can increase your enrollments without first costing you a penny.
RelyCircle has eliminated the #1 concern of Small-Business owners; that is the cost of advertising and measuring return on investment. Using our patent pending Social referral rewards program your company advertisements/promotions can be displayed or clicked a million times; but you only pay a customer referral fee when you make a sale. This means free advertising and even free leads. No more Cost Per Click. Cost Per Sale is the new Social Selling practice with RelyCircle. Contact us to learn more today!