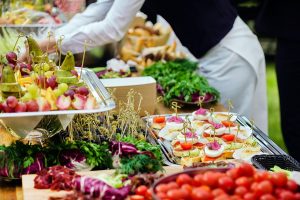 Growing a catering business is no easy task. Finding catering jobs can be a huge challenge when most of your professional experience has been behind the stove. As the owner of a catering company you have to add business management and marketing to your skill set and that can be overwhelming. So it is important that you have a solid strategy for growing your catering business, so that you can focus on what you do best: Entertaining guests with your delicious food.
Understanding Your Market
Running a catering company is very different than running a restaurant. In order to get recurring, profitable catering jobs, you will work primarily with event planners, banquet managers, and convention spaces. Even on small, one-off jobs like weddings or bar mitzvahs you will more than likely still be working with a professional planner. So to build a successful, thriving catering company it is import to build your network
Building Your Network Through Referrals
In the past, catering managers have had to build their network through advertisements, cold calls, and even hosting free trial events. This method works, but it can take a long time to build a solid client base and can come with some very heavy up front costs. Another way that catering professionals build their network is through referrals. A satisfied customer may refer your services to another customer with an upcoming event. This method is also successful, but also takes a long time because it is typically event specific.
How RelyCircle Can Help
RelyCircle has a great program to help caterers build their network in order to land more catering jobs. Basically, RelyCircle incentivizes referrals by helping you offer your clients coupons, discounts, and other rewards for their recommendations. The recommendations appear on their individual social media accounts and will help you reach their entire network. RelyCircle is incredibly easy to use, you just simply hand out referral codes to your satisfied customers and then they do all the work. This is a perfect system for caterers who have spent most of their careers as chefs.
So if you'd like to learn more about how RelyCircle can take some of the business management and marketing responsibilities off you, check out our Frequently Asked Questions on our website. There you will learn how RelyCircle can help you build your catering business and get more of the recurring jobs you need to thrive. Check our business services today!